Doom, Ultima Online: Age of Shadows ile oyuna eklenen Malas haritasındaki zindanlardan biridir. Zindanın gauntlet bölümü yani Doom Gauntlet, major artifact elde edebildiğimiz alandır. The Summoning Görevi tamamlanarak elde edilen altın kafatası (golden skull) ile girilebilir. Bu kafatası zindan içinde bulunan Chyloth isimli cadıya verildiği takdirde sizi zindanın Doom Gauntlet bölümüne alacaktır. Cadıyı çağırmak için zindanda bulunduğu yerdeki çanın çalınması gerekmektedir.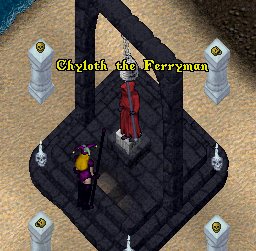 Zindanın Gauntlet bölümü liman, malzeme odası, paralı hayata dönme noktası, mini zindan efendilerinin odaları ve geniş bir zindan meydanından oluşur. Zindan odaları, çeşitli zindan efendilerine ayrılmıştır. Her efendinin çıktığı yer bellidir. Bunlardan sadece Dark Father zindan meydanında ortaya çıkar. Aşağıdaki haritada zindan efendilerinin çıkış noktaları gösterilmiştir.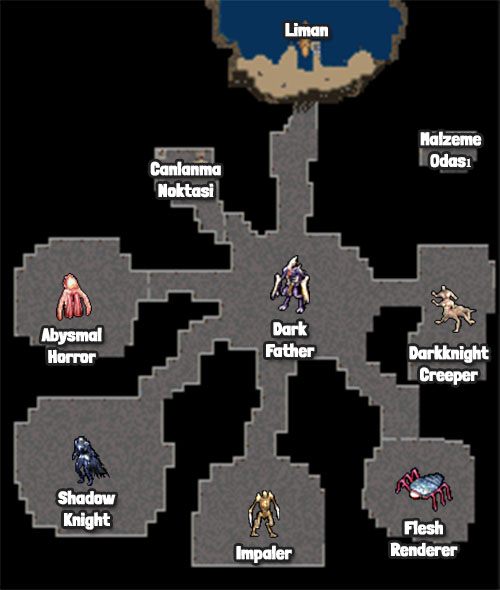 Malzeme Odası, diğer bir ifadeyle satıcı odası Banker, Animal Trainer, Variety Dealer tedarikçilerinin bulunduğu yerdir. Gizli bir geçitle geçilen bu alana yaratıklar çekilebilmektedir. Ayrıca LRC ve Luck görevi alan NPC'ler de bu odada bulunur.

Canlanma Odası, sadece ölüyken girilebilen ve içeride 5.000 altın karşılığında sizi canlandıran bir Healer bulunan zindan bölümüdür.

Liman, Gauntlet bölgesini zindanın diğer kısmından ayıran gölün kenarında bulunur. Burada bulunan geçiş kapısı kullanılarak zindanın gauntlet bölgesinden ayrılabilirsiniz.



Zindan Efendileri ve Avlanma Şekli
Zindanda karşınıza çıkacak efendiler sırasıyla aşağıdaki şekildedir.
Sıra
Adı
Özellikleri
1
Darknight Creeper
Doğudaki odada kalır.
2
Flesh Renderer
Güneydoğudaki odadadır. Saldırdığı kişiyi attan düşürebilir. Hızlı hareket eder.
3
Impaler
Güneydeki odadadır. Ölümcül saldırı (Mortal Strike), kanamalı vuruş (Bleed Attack) saldırılarını yapar. Ayrıca ölümcül düzeyde zehirler.
4
Shadow Knight
Güneybatıdaki odadadır. Canı azaldığı zaman bir yere saklanır. Oyuncuların onu ortaya çıkarması gerekir.
5
Abysmal Horror
Batıdaki odadadır. Yüksek zekası ile güçlü büyüler yapar.
6
Dark Father
(Demon Knight)
Zindanın merkezinde ortaya çıkar. Aynı anda birden fazla kişiden can alabilir. Kanamalı ve savurma vuruşlar yapabilir. Ayrıca ortaya kemik atar. Bu kemikler bir makas yardımıyla kırılmazsa yaratığa dönüşür.
Yaratıklar sırasıyla ortaya çıkar.
İlk olarak Darknight Creeper öldürülür, ardından Flesh Renderer çıkar ve o öldürülür. Impaler, Shadow Knight, Abysmal Horror derken en sonunda Dark Father ortaya çıkar ve öldüğü zaman
1 zindan (DF) turu
tamamlanır, yeniden 1. yaratık olan Darknight Creper çıkar. Sıranın hangi yaratıkta olduğunu görmek için
[gauntlet
komutunu kullanabilirsiniz.
İlk 5 yaratığın bulunduğu zindan odalarına giren oyuncular
yaratık ölmeden geri çıkamaz
. Odaya girerken yaratığınızın yanınızda olduğundan emin olun. Yavaş girmeye özen gösterin. Çok hızlı davranırsanız yaratığınız oda dışında kalabilir.
Major Artifact Nasıl Elde Edilir?
Oyuncular Doom Gauntlet zindanındaki efendileri öldürerek belli bir
şansla
içinde major artifact bulunan
artifact kasası
kazanırlar.
Major artifact düşürme şansına etki eden bazı durumlar vardır. Bunlar DF Turu sayısı, DF'deki diğer yaratıkları öldürmek, sahip olunan luck (şans) miktarı ve Doom Gauntlet içerisindeki bazı görevleri tamamlamış olmak başlıca etki eden unsurlardır.
Oyuncular,
Doom Gauntlet
zindanı içerisindeki yaratıkları
sırasıyla öldürerek
1 DF Turu
tamamlar. Her DF turu sizi artifacte daha fazla yaklaştırır. Bir oyuncuya
100 tur
tamamlamasına rağmen artifact düşmediyse sunucu tarafından oyuncunun
artifact düşürmesi sağlanır
.
Oyuncular sırada olmayan ancak Doom Gauntlet efendilerinden olan yaratıkları (Darknight Creeper, Flesh Renderer, Impaler, Shadow Knight, Abysmal Horror, Dark Father) ile Dark Father tarafından ortaya atılmış yaratıkları öldürdükleri zaman
1 DF Puanı
kazanırlar. Bir oyuncunun DF puanı
1000
olduğu zaman
1 DF Turu
tamamlamış sayılırlar. Aşağıdaki tabloda hangi yaratığın kaç DF Puanı verdiği gösterilmiştir.
Ayrıca oyuncular
zindan efendisi ya da düzen bozucu
öldürdükleri zaman
1000 DF Puanı (1 DF Turu)
ile ödüllendirilirler.
| | |
| --- | --- |
| Yaratık | DF Puanı |
| Dark Father | 25 Puan |
| Dark Father dışındaki efendiler | 5 Puan |
| Dark Father tarafından çıkarılanlar | 1 Puan |
Artifactlar
şansa göre de düşebilir
. Sunucu, oyuncular her efendi öldürdükleri zaman onlar için
rastgele bir sayı tutar
. Tuttuğu sayı, oyuncunun artifact şansından küçükse
df turuna ya da puanına bakılmaksızın
artifact düşürür. Bu şans oyun içi [DF komutunda gösterilmektedir.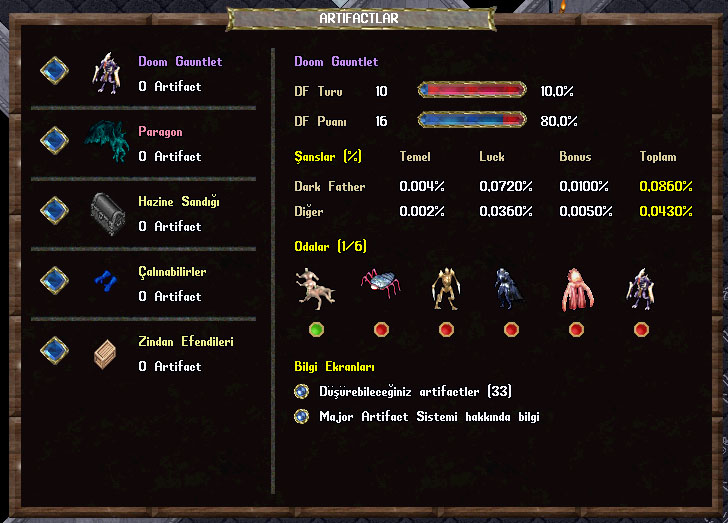 Oyuncular bu komutla ayrıca DF Turu tamamlamak için sırada hangi yaratık olduğunu görebilirler. Yeşil olanlar öldürdükleriniz, kırmızı olanlar ise öldürmeniz gerekenler. İlk kırmızı renkli olan yaratık sıradaki öldürmeniz gereken yaratıktır.
UYARI:
10 dakikadır hareket etmeyen oyuncular DF Puanı kazanamazlar
Artifact Kasası
Oyunculara artifact düştüğü zaman, artifact size kasa içerisinde verilir. Kasa kilitlidir ve açılması için oyuncuların
3 gün beklemesi gereklidir
.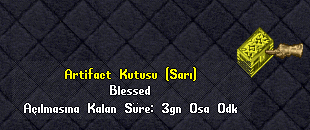 Artifact Kasası
, World of UO 2020 ile gelen bir özelliktir. Toplam
6 renk kasa
bulunur. Renkler ve çıkabilecek artifactlar aşağıdaki gibidir:
Kırmızı Artifact Kasası:
Aegis, Hat of The Magi, Serpents Fang, Ornate Crown of The Harrower, Blade of Insanity, Axe of the Heavens
Yeşil Artifact Kasası:
Armor of Fortune, Arcane Shield, Leggings of Bane, Frostbringer, Bone Crusher, Bracelet of Health
Mavi Artifact Kasası:
Tunic of Fire, Ring of the Elements, Ring of the Vile, Breath of the Dead, Holy Knight's Breastplate
Beyaz Artifact Kasası:
Shadow Dancer Leggings, Hunters Headdress, The Dryad Bow, Legacy of the Dread Lord, Ornament of the Magician
Sarı Artifact Kasası:
Divine Countenance, Helm of Insight, Voice of the Fallen King, Staff of the Magi, The Beserkers Maul
Siyah Artifact Kasası:
The Taskmaster, The Dragon Slayer, Gauntlets of Nobility, Jackals Collar, Midnight Bracers
Pembe Artifact Kasası:
Katana of Luck, Gloves of Regeneration, Leggings of Magi, Miners Pickaxe, Nordic Viking Sword, World of UO Bow
Turuncu Artifact Kasası:
Captain John's Hat, Hell Forged Arms, Sash of Lucky, Mace of the Shadows, Retort
Artifactların düşme şansları artifactin kalitesine göre değişiklik göstermektedir. (18 Mayıs 2020'de yapılan güncelleme ile sunucudaki artifact kasası sayısının da fazla olması dikkate alınmıştır)
Bir artifact kasası düşürüldükten sonra açılması için
3 gün beklenmesi
gerekir. Bu süre sonrasında kasa iki defa tıklanarak açılabilir.
Artifact Kasa Anahtarı
, 5 kullanımlık kasa anahtarıdır. Bu anahtar ile 3 günlük bekleme süresi olmadan artifacti kasadan çıkarabilirsiniz. Bu eşyayı World of UO Mağazadan edinebilirsiniz.
Major Artifactler
Artifact
Normal
Unique


Legacy Of The Dread Lord
(1. Seviye)
Artifact Rarity 10
Damage Increase 50%
Faster Cast Recovery 3
Spell Channeling
Swing Speed Increase 30%
Physical Damage 100%
Weapon Damage 17 - 18
Weapon Speed 28
Range 1
Strength Requirement 45
Two-Handed Weapon
Skill Required: Swordsmanship
Durability 255/255

(Unique)
Artifact Rarity 10
Use Best Weapon Skill
Damage Increase 100%
Hit Harm 50%
Hit Mana Leech 100%
Spell Channeling
Swing Speed Increase 40%
Physical Damage 100%
Weapon Damage 17 - 18
Weapon Speed 28
Range 1
Strength Requirement 45
Two-Handed Weapon
Durability 255/255



The Taskmaster
(1. Seviye)
Artifact Rarity 10
Damage Increase 50%
Hit Chance Increase 15%
Hit PoisonArea 100%
Dextery Bonus 5
Poison Damage 100%
Weapon Damage 12 - 13
Weapon Speed 43
Range 1
Strength Requirement 45
One-Handed Weapon
Skill Required: Fencing
Durability 255/255

(Unique)
Artifact Rarity 10
Damage Increase 50%
Hit Chance Increase 20%
Hit Mana Leech 50%
Hit PoisonArea 100%
Poison Damage 100%
Weapon Damage 12 - 13
Weapon Speed 43
Range 1
Strength Requirement 45
One-Handed Weapon
Skill Required: Fencing
Durability 255/255



The Dragon Slayer
(1. Seviye)
Artifact Rarity 11
Slayer: DragonSlaying
Fire Resist 20%
Use Best Weapon Skill
Damage Increase 50%
Luck 110
Energy Damage 100%
Weapon Damage 17 - 18
Weapon Speed 24
Range 1
Strength Requirement 95
One-Handed Weapon
Durability 255/255

(Unique)
Artifact Rarity 11
Slayer: ReptilianDeath
Use Best Weapon Skill
Damage Increase 75%
Defense Chance Increase 15%
Hit Chance Increase 15%
Swing Speed Increase 50%
Energy Damage 100%
Weapon Damage 17 - 18
Weapon Speed 24
Range 1
Strength Requirement 95
One-Handed Weapon
Durability 255/255



Tunic Of Fire
(1. Seviye)
Artifact Rarity 11
Night Sight
Reflect Physical Damage 15%
Self Repair 5
Physical Resist 24%
Fire Resist 34%
Cold Resist 4%
Poison Resist 1%
Energy Resist 2%
Strength Requirement 60
Durability 255/255

(Unique)
Artifact Rarity 11
Hit Point Increase 5
Lower Mana Cost 8%
Mage Armor
Mana Increase 5
Stamina Increase 5
Physical Resist 24%
Fire Resist 34%
Cold Resist 4%
Poison Resist 1%
Energy Resist 2%
Strength Requirement 60
Durability 255/255



Holy Knights Breastplate
(1. Seviye)
Artifact Rarity 11
Hit Point Increase 10
Reflect Physical Damage 15%
Physical Resist 35%
Fire Resist 3%
Cold Resist 2%
Poison Resist 3%
Energy Resist 2%
Strength Requirement 95
Durability 255/255

(Unique)
Artifact Rarity 11
Hit Point Increase 10
Mage Armor
Mana Increase 8
Physical Resist 5%
Fire Resist 3%
Cold Resist 14%
Poison Resist 3%
Energy Resist 14%
Strength Requirement 95
Durability 255/255



Leggings Of Bane
(1. Seviye)
Artifact Rarity 11
Hit Chance Increase 20%
Stamina Increase 8
Physical Resist 4%
Fire Resist 4%
Cold Resist 4%
Poison Resist 36%
Energy Resist 2%
Durability Bonus 100%
Strength Requirement 60
Durability 255/255

(Unique)
Artifact Rarity 11
Dextery Bonus 10
Hit Chance Increase 20%
Mage Armor
Physical Resist 14%
Fire Resist 10%
Cold Resist 10%
Poison Resist 12%
Energy Resist 10%
Durability Bonus 100%
Strength Requirement 60
Durability 255/255



Midnight Bracers
(1. Seviye)
Necromancy +20
Artifact Rarity 11
Mage Armor
Spell Damage Increase 10%
Physical Resist 23%
Fire Resist 3%
Cold Resist 4%
Poison Resist 2%
Energy Resist 4%
Strength Requirement 55
Durability 255/255

(Unique)
Necromancy +20
Artifact Rarity 11
Lower Mana Cost 8%
Mage Armor
Spell Damage Increase 10%
Physical Resist 23%
Fire Resist 3%
Cold Resist 4%
Poison Resist 2%
Energy Resist 4%
Strength Requirement 55
Durability 255/255



Ornate Crown Of The Harrower
(1. Seviye)
Artifact Rarity 11
Damage Increase 25%
Stamina Regeneration 3
Hit Point Regeneration 2
Physical Resist 3%
Fire Resist 3%
Cold Resist 4%
Poison Resist 17%
Energy Resist 4%
Strength Requirement 20
Durability 255/255

(Unique)
Artifact Rarity 11
Damage Increase 30%
Stamina Regeneration 3
Hit Point Regeneration 2
Strength Bonus 8
Physical Resist 18%
Fire Resist 3%
Cold Resist 24%
Poison Resist 17%
Energy Resist 4%
Strength Requirement 20
Durability 255/255



Shadow Dancer Leggings
(1. Seviye)
Stealth +20
Stealing +20
Artifact Rarity 11
Physical Resist 17%
Fire Resist 4%
Cold Resist 3%
Poison Resist 18%
Energy Resist 18%
Strength Requirement 20
Durability 255/255

(Unique)
Stealth +30
Artifact Rarity 11
Defense Chance Increase 15%
Hit Point Increase 5
Lower Mana Cost 5%
Physical Resist 17%
Fire Resist 4%
Cold Resist 3%
Poison Resist 18%
Energy Resist 18%
Strength Requirement 20
Durability 255/255



Voice Of The Fallen King
(1. Seviye)
Artifact Rarity 11
Stamina Regeneration 3
Hit Point Regeneration 5
Strength Bonus 8
Physical Resist 2%
Fire Resist 4%
Cold Resist 18%
Poison Resist 3%
Energy Resist 18%
Strength Requirement 20
Durability 255/255

(Unique)
Artifact Rarity 11
Mana Regeneration 2
Stamina Regeneration 3
Hit Point Regeneration 2
Strength Bonus 8
Physical Resist 17%
Fire Resist 4%
Cold Resist 18%
Poison Resist 3%
Energy Resist 18%
Strength Requirement 20
Durability 255/255



Bracelet Of Health
(1. Seviye)
Artifact Rarity 11
Hit Point Increase 5
Hit Point Regeneration 10
Durability 96/96

(Unique)
Artifact Rarity 11
Enhance Potions 30%
Faster Cast Recovery 3
Lower Mana Cost 15%
Hit Point Regeneration 10
Strength Bonus 10
Durability 90/90



Ring Of The Elements
(1. Seviye)
Artifact Rarity 11
Luck 100
Fire Resist 16%
Cold Resist 16%
Poison Resist 16%
Energy Resist 16%
Durability 114/114

(Unique)
Artifact Rarity 11
Luck 100
Fire Resist 16%
Cold Resist 16%
Poison Resist 16%
Energy Resist 16%
Durability 87/87



Ring Of The Vile
(1. Seviye)
Artifact Rarity 11
Dextery Bonus 8
Hit Chance Increase 15%
Stamina Regeneration 6
Poison Resist 20%
Durability 117/117

(Unique)
Artifact Rarity 11
Damage Increase 25%
Dextery Bonus 8
Hit Chance Increase 15%
Strength Bonus 8
Poison Resist 20%
Durability 105/105



Aegis
(1. Seviye)
Artifact Rarity 11
Defense Chance Increase 15%
Lower Mana Cost 8%
Reflect Physical Damage 15%
Self Repair 5
Physical Resist 15%
Fire Resist 1%
Strength Requirement 90
Durability 255/255

(Unique)
Artifact Rarity 11
Defense Chance Increase 15%
Hit Chance Increase 15%
Lower Mana Cost 8%
Lower Requirements 100%
Spell Channeling
Physical Resist 5%
Fire Resist 5%
Cold Resist 5%
Poison Resist 5%
Energy Resist 5%
Durability 255/255



Axe Of The Heavens
(1. Seviye)
Artifact Rarity 11
Damage Increase 50%
Defense Chance Increase 15%
Hit Chance Increase 15%
Hit Lightning 50%
Physical Damage 100%
Weapon Damage 15 - 17
Weapon Speed 33
Range 1
Strength Requirement 45
Two-Handed Weapon
Skill Required: Swordsmanship
Durability 255/255

(Unique)
Artifact Rarity 11
Damage Increase 50%
Hit Lightning 50%
Hit Mana Leech 30%
Swing Speed Increase 50%
Cold Damage 50%
Energy Damage 50%
Weapon Damage 15 - 17
Weapon Speed 33
Range 1
Strength Requirement 45
Two-Handed Weapon
Skill Required: Swordsmanship
Durability 255/255



Blade Of Insanity
(1. Seviye)
Artifact Rarity 11
Damage Increase 50%
Hit Stamina Leech 100%
Stamina Regeneration 2
Swing Speed Increase 30%
Physical Damage 100%
Weapon Damage 11 - 13
Weapon Speed 46
Range 1
Strength Requirement 25
One-Handed Weapon
Skill Required: Swordsmanship
Durability 255/255

(Unique)
Artifact Rarity 11
Damage Increase 75%
Hit Life Leech 50%
Hit Mana Leech 50%
Hit Stamina Leech 50%
Swing Speed Increase 30%
Physical Damage 100%
Weapon Damage 11 - 13
Weapon Speed 46
Range 1
Strength Requirement 25
One-Handed Weapon
Skill Required: Swordsmanship
Durability 255/255



Bone Crusher
(1. Seviye)
Artifact Rarity 11
Damage Increase 75%
Hit Lower Defense 50%
Strength Bonus 10
Physical Damage 100%
Weapon Damage 16 - 17
Weapon Speed 26
Range 1
Strength Requirement 80
One-Handed Weapon
Skill Required: Mace Fighting
Durability 255/255

(Unique)
Artifact Rarity 11
Damage Increase 75%
Hit Harm 100%
Hit Lower Defense 40%
Swing Speed Increase 40%
Cold Damage 100%
Weapon Damage 16 - 17
Weapon Speed 26
Range 1
Strength Requirement 80
One-Handed Weapon
Skill Required: Mace Fighting
Durability 255/255



Breath Of The Dead
(1. Seviye)
Artifact Rarity 11
Damage Increase 50%
Hit Harm 25%
Hit Life Leech 100%
Spell Damage Increase 5%
Physical Damage 100%
Weapon Damage 13 - 15
Weapon Speed 36
Range 1
Strength Requirement 25
One-Handed Weapon
Skill Required: Swordsmanship
Durability 255/255

(Unique)
Artifact Rarity 11
Damage Increase 50%
Hit Chance Increase 15%
Hit Harm 50%
Spell Channeling
Spell Damage Increase 5%
Physical Damage 100%
Weapon Damage 13 - 15
Weapon Speed 36
Range 1
Strength Requirement 25
One-Handed Weapon
Skill Required: Swordsmanship
Durability 255/255



Frostbringer
(1. Seviye)
Artifact Rarity 11
Damage Increase 50%
Hit Dispel 50%
Stamina Regeneration 10
Cold Damage 100%
Weapon Damage 16 - 18
Weapon Speed 25
Range 10
Strength Requirement 30
Two-Handed Weapon
Skill Required: Archery
Durability 255/255

(Unique)
Artifact Rarity 11
Damage Increase 50%
Faster Casting 1
Hit Chance Increase 15%
Hit Mana Leech 50%
Swing Speed Increase 50%
Cold Damage 100%
Weapon Damage 16 - 18
Weapon Speed 25
Range 10
Strength Requirement 30
Two-Handed Weapon
Skill Required: Archery
Durability 255/255



Serpents Fang
(1. Seviye)
Artifact Rarity 11
Poison Resist 20%
Damage Increase 50%
Hit Chance Increase 15%
Hit PoisonArea 100%
Physical Damage 25%
Poison Damage 75%
Weapon Damage 10 - 12
Weapon Speed 53
Range 1
Strength Requirement 10
One-Handed Weapon
Skill Required: Fencing
Durability 255/255

(Unique)
Artifact Rarity 11
Damage Increase 50%
Hit Chance Increase 15%
Hit Dispel 40%
Hit Mana Leech 50%
Hit PoisonArea 100%
Swing Speed Increase 50%
Poison Damage 100%
Weapon Damage 10 - 12
Weapon Speed 53
Range 1
Strength Requirement 10
One-Handed Weapon
Skill Required: Fencing
Durability 255/255



Staff Of The Magi
(1. Seviye)
Artifact Rarity 11
Damage Increase 50%
Faster Casting 1
Mage Weapon -0 Skill
Spell Channeling
Energy Damage 100%
Weapon Damage 13 - 16
Weapon Speed 39
Range 1
Strength Requirement 35
Two-Handed Weapon
Skill Required: Mace Fighting
Durability 255/255

(Unique)
Artifact Rarity 11
Damage Increase 50%
Defense Chance Increase 15%
Faster Casting 1
Hit Chance Increase 15%
Mage Weapon -0 Skill
Spell Channeling
Energy Damage 100%
Weapon Damage 13 - 16
Weapon Speed 39
Range 1
Strength Requirement 35
Two-Handed Weapon
Skill Required: Mace Fighting
Durability 255/255



The Beserkers Maul
(2. Seviye)
Artifact Rarity 11
Damage Increase 50%
Swing Speed Increase 75%
Physical Damage 100%
Weapon Damage 14 - 16
Weapon Speed 32
Range 1
Strength Requirement 45
One-Handed Weapon
Skill Required: Mace Fighting
Durability 255/255

(Unique)
Artifact Rarity 11
Damage Increase 50%
Hit Chance Increase 15%
Hit Lower Defense 50%
Hit Mana Leech 50%
Swing Speed Increase 70%
Physical Damage 100%
Weapon Damage 14 - 16
Weapon Speed 32
Range 1
Strength Requirement 45
One-Handed Weapon
Skill Required: Mace Fighting
Durability 255/255



The Dryad Bow
(2. Seviye)
Resisting Spells +10
Artifact Rarity 11
Poison Resist 15%
Damage Increase 35%
Self Repair 5
Swing Speed Increase 50%
Physical Damage 100%
Weapon Damage 16 - 18
Weapon Speed 25
Range 10
Strength Requirement 30
Two-Handed Weapon
Skill Required: Archery
Durability 255/255

(Unique)
Artifact Rarity 11
Damage Increase 50%
Hit Chance Increase 15%
Hit Lower Attack 35%
Hit Mana Leech 50%
Swing Speed Increase 50%
Physical Damage 100%
Weapon Damage 16 - 18
Weapon Speed 25
Range 10
Strength Requirement 30
Two-Handed Weapon
Skill Required: Archery
Durability 255/255



Divine Countenance
(2. Seviye)
Artifact Rarity 11
Intelligence Bonus 8
Lower Mana Cost 8%
Mana Regeneration 2
Reflect Physical Damage 15%
Physical Resist 8%
Fire Resist 6%
Cold Resist 9%
Poison Resist 4%
Energy Resist 25%
Strength Requirement 10
Durability 255/255

(Unique)
Artifact Rarity 11
Intelligence Bonus 8
Mana Regeneration 2
Reflect Physical Damage 15%
Strength Bonus 8
Physical Resist 12%
Fire Resist 12%
Cold Resist 21%
Poison Resist 12%
Energy Resist 12%
Strength Requirement 10
Durability 255/255



Helm Of Insight
(2. Seviye)
Artifact Rarity 11
Intelligence Bonus 8
Lower Mana Cost 8%
Mana Increase 15
Mana Regeneration 2
Physical Resist 5%
Fire Resist 3%
Cold Resist 2%
Poison Resist 3%
Energy Resist 17%
Strength Requirement 80
Durability 255/255

(Unique)
Artifact Rarity 11
Intelligence Bonus 8
Lower Mana Cost 8%
Mage Armor
Mana Increase 15
Mana Regeneration 2
Physical Resist 2%
Fire Resist 2%
Cold Resist 2%
Poison Resist 2%
Energy Resist 20%
Strength Requirement 80
Durability 255/255



Ornament Of The Magician
(2. Seviye)
Artifact Rarity 11
Faster Cast Recovery 3
Faster Casting 2
Lower Mana Cost 10%
Lower Reagent Cost 20%
Energy Resist 15%
Durability 117/117

(Unique)
Artifact Rarity 11
Faster Cast Recovery 3
Faster Casting 2
Lower Mana Cost 10%
Lower Reagent Cost 20%
Luck 100
Strength Bonus 8
Durability 118/118



Hunters Headdress
(2. Seviye)
Archery +20
Artifact Rarity 11
Dextery Bonus 8
Hit Chance Increase 15%
Night Sight
Physical Resist 2%
Fire Resist 6%
Cold Resist 23%
Poison Resist 1%
Energy Resist 7%
Strength Requirement 10
Durability 255/255

(Unique)
Fencing +20
Artifact Rarity 11
Dextery Bonus 15
Hit Chance Increase 20%
Night Sight
Physical Resist 14%
Fire Resist 14%
Cold Resist 23%
Poison Resist 14%
Energy Resist 14%
Strength Requirement 10
Durability 255/255



Armor Of Fortune
(3. Seviye)
Artifact Rarity 11
Defense Chance Increase 15%
Lower Reagent Cost 40%
Luck 200
Mage Armor
Physical Resist 2%
Fire Resist 4%
Cold Resist 3%
Poison Resist 3%
Energy Resist 4%
Strength Requirement 35
Durability 255/255

(Unique)
Artifact Rarity 11
Defense Chance Increase 15%
Lower Reagent Cost 40%
Luck 200
Mage Armor
Physical Resist 8%
Fire Resist 9%
Cold Resist 7%
Poison Resist 8%
Energy Resist 7%
Strength Requirement 35
Durability 255/255



Arcane Shield
(2. Seviye)
Artifact Rarity 11
Defense Chance Increase 15%
Faster Casting 1
Night Sight
Spell Channeling
Energy Resist 1%
Strength Requirement 20
Durability 255/255

(Unique)
Artifact Rarity 11
Defense Chance Increase 15%
Faster Casting 1
Lower Mana Cost 5%
Spell Channeling
Energy Resist 1%
Strength Requirement 20
Durability 255/255



Hat Of The Magi
(3. Seviye)
Artifact Rarity 11
Intelligence Bonus 8
Mana Regeneration 4
Spell Damage Increase 10%
Fire Resist 5%
Cold Resist 9%
Poison Resist 20%
Energy Resist 20%
Strength Requirement 10
Durability 255/255

(Unique)
Artifact Rarity 11
Hit Point Increase 5
Intelligence Bonus 8
Mana Regeneration 4
Spell Damage Increase 15%
Physical Resist 5%
Fire Resist 5%
Cold Resist 9%
Poison Resist 20%
Energy Resist 20%
Strength Requirement 10
Durability 255/255



Gauntlets Of Nobility
(3. Seviye)
Artifact Rarity 11
Damage Increase 20%
Luck 100
Strength Bonus 8
Physical Resist 18%
Fire Resist 3%
Cold Resist 1%
Poison Resist 20%
Energy Resist 3%
Strength Requirement 40
Durability 255/255

(Unique)
Artifact Rarity 11
Damage Increase 25%
Luck 100
Mage Armor
Strength Bonus 10
Physical Resist 10%
Fire Resist 3%
Cold Resist 18%
Poison Resist 5%
Energy Resist 18%
Strength Requirement 40
Durability 255/255



Jackals Collar
(3. Seviye)
Artifact Rarity 11
Dextery Bonus 15
Hit Point Regeneration 2
Physical Resist 5%
Fire Resist 23%
Cold Resist 17%
Poison Resist 3%
Energy Resist 2%
Strength Requirement 45
Durability 255/255

(Unique)
Artifact Rarity 11
Dextery Bonus 15
Mage Armor
Hit Point Regeneration 2
Physical Resist 5%
Fire Resist 23%
Cold Resist 17%
Poison Resist 3%
Energy Resist 2%
Strength Requirement 45
Durability 255/255



Katana Of Luck
(1. Seviye)
Artifact Rarity 12
Lower Reagent Cost 20%
Luck 200
Spell Channeling
Swing Speed Increase 20%
Physical Damage 100%
Weapon Damage 11 - 13
Weapon Speed 46
Range 1
Strength Requirement 25
One-Handed Weapon
Skill Required: Swordsmanship
Durability 255/255



Gloves Of Regeneration
(1. Seviye)
Artifact Rarity 12
Mana Regeneration 5
Stamina Regeneration 5
Hit Point Regeneration 5
Physical Resist 5%
Fire Resist 10%
Cold Resist 8%
Poison Resist 15%
Energy Resist 10%
Strength Requirement 20
Durability 255/255

(Unique)
Magery +20
Artifact Rarity 12
Hit Point Increase 5
Mana Increase 8
Mana Regeneration 5
Stamina Regeneration 5
Hit Point Regeneration 5
Physical Resist 5%
Fire Resist 10%
Cold Resist 8%
Poison Resist 15%
Energy Resist 10%
Strength Requirement 20
Durability 255/255



Leggings Of Magi
(2. Seviye)
Artifact Rarity 12
Defense Chance Increase 10%
Lower Mana Cost 8%
Lower Requirements 50%
Mage Armor
Mana Increase 7
Night Sight
Physical Resist 10%
Fire Resist 22%
Cold Resist 3%
Poison Resist 7%
Energy Resist 9%
Strength Requirement 30
Durability 125/125

(Unique)
Magery +20
Artifact Rarity 12
Defense Chance Increase 15%
Hit Point Increase 5
Lower Requirements 50%
Mage Armor
Mana Increase 7
Mana Regeneration 2
Night Sight
Physical Resist 10%
Fire Resist 22%
Cold Resist 3%
Poison Resist 7%
Energy Resist 9%
Strength Requirement 30
Durability 125/125



Miner's Pickaxe
(1. Seviye)
Artifact Rarity 12
Uses Remaining: 50
Damage Increase 35%
Hit Chance Increase 10%
Hit Lower Attack 45%
Luck 100
Self Repair 3
Swing Speed Increase 20%
Physical Damage 100%
Weapon Damage 13 - 15
Weapon Speed 35
Range 1
Strength Requirement 50
One-Handed Weapon
Skill Required: Swordsmanship
Durability 255/255



Nordic Viking Sword
(1. Seviye)
Artifact Rarity 12
Slayer: DragonSlaying
Damage Increase 50%
Hit Lightning 50%
Hit Point Increase 10
Swing Speed Increase 20%
Physical Damage 40%
Fire Damage 20%
Energy Damage 40%
Weapon Damage 15 - 17
Weapon Speed 28
Range 1
Strength Requirement 40
One-Handed Weapon
Skill Required: Swordsmanship
Durability 255/255



World Of Uo Bow
(1. Seviye)
Artifact Rarity 12
Damage Increase 40%
Hit Chance Increase 10%
Hit Life Leech 30%
Hit Lightning 40%
Hit Stamina Leech 30%
Spell Channeling
Swing Speed Increase 25%
Physical Damage 100%
Weapon Damage 15 - 17
Weapon Speed 25
Range 10
Strength Requirement 45
Two-Handed Weapon
Skill Required: Archery
Durability 255/255



Captain John's Hat [Replica]
(2. Seviye)
Swordsmanship +20
Artifact Rarity 12
Dextery Bonus 8
Hit Chance Increase 15%
Night Sight
Physical Resist 2%
Fire Resist 6%
Cold Resist 9%
Poison Resist 7%
Energy Resist 23%
Strength Requirement 10
Durability 125/125



Mace of the Shadows
(1. Seviye)
Artifact Rarity 12
Damage Increase 40%
Hit Life Leech 45%
Hit Lightning 50%
Lower Requirements 20%
Swing Speed Increase 20%
Physical Damage 100%
Weapon Damage 12 - 14
Weapon Speed 40
Range 1
Strength Requirement 36
One-Handed Weapon
Skill Required: Mace Fighting
Durability 225/225



Retort
(1. Seviye)
Artifact Rarity 12
Hit Lower Defense 40%
Hit Mana Leech 35%
Stamina Increase 10
Swing Speed Increase 25%
Physical Damage 100%
Weapon Damage 12 - 13
Weapon Speed 43
Range 1
Strength Requirement 45
One-Handed Weapon
Skill Required: Fencing
Durability 125/125



Hell Forged Arms
(1. Seviye)
Artifact Rarity 12
Damage Increase 10%
Hit Chance Increase 5%
Lower Mana Cost 8%
Lower Requirements 60%
Mage Armor
Self Repair 2
Physical Resist 17%
Fire Resist 17%
Cold Resist 8%
Poison Resist 9%
Energy Resist 10%
Strength Requirement 32
Durability 125/125

(Unique)
Artifact Rarity 12
Damage Increase 25%
Hit Chance Increase 5%
Lower Mana Cost 8%
Lower Requirements 60%
Mage Armor
Self Repair 2
Physical Resist 22%
Fire Resist 22%
Cold Resist 8%
Poison Resist 9%
Energy Resist 10%
Strength Requirement 32
Durability 125/125



Sash Of Lucky
(1. Seviye)
Artifact Rarity 12
Luck 50
Strength Requirement 10



Spirit Of The Totem
(3. Seviye)
Artifact Rarity 11
Hit Chance Increase 15%
Reflect Physical Damage 15%
Strength Bonus 20
Physical Resist 20%
Fire Resist 3%
Cold Resist 8%
Poison Resist 4%
Energy Resist 4%
Strength Requirement 10
Durability 255/255

(Unique)
Artifact Rarity 11
Hit Chance Increase 15%
Reflect Physical Damage 15%
Strength Bonus 20
Physical Resist 20%
Fire Resist 9%
Cold Resist 9%
Poison Resist 9%
Energy Resist 9%
Strength Requirement 10
Durability 255/255

İlgili Yazılar